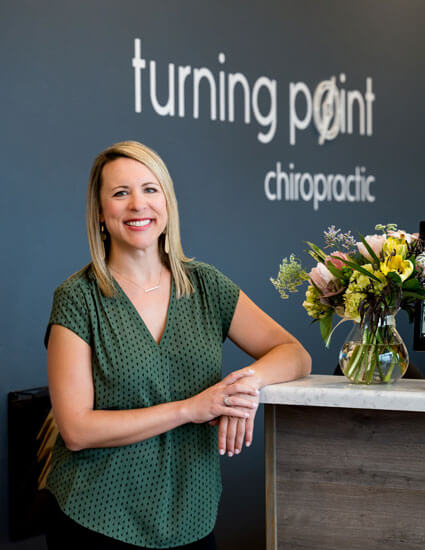 Meet Dr. Leah Hetebrueg
Making a New Choice
Connecting with people, making a difference in their lives, and transforming their health through chiropractic care is a privilege that Dr. Leah appreciates every day. Her route to becoming a chiropractor was non-traditional and based on her own experience.
As an elementary school teacher, Dr. Leah got every bug going around. In college, people had warned soon-to-be teachers to be prepared to get sick all the time, but Dr. Leah didn't know how true that would be. Finally, a friend suggested chiropractic care. Dr. Leah thought that was unusual, since she didn't have neck or back pain—and that's all she knew about chiropractic at the time. But she visited her friend's chiropractor and noticed her immune system improved over time, and she wasn't sick nearly as often.
Wanting to serve her community in a different capacity, Dr. Leah enrolled at Palmer College of Chiropractic, graduating as valedictorian of her class in 2014. She is certified by the International Chiropractic Pediatric Association in the Webster Technique, and also holds certification in Torque Release Technique (TRT).
Dr. Leah and Dr. Brooke opened Turning Point Chiropractic together in 2016.
A Calming Presence
Dr. Leah is welcoming and has a calming demeanor that helps soothe moms who are at their wit's end, as well as the kids that have driven them to that point. An educator at heart, Dr. Leah is great at listening to where patients are coming from and helping them understand what's going on with their health, and how chiropractic can help. She loves that there is always something new to learn in chiropractic, and she's committed to expanding her knowledge to continually give our patients the best care possible.
Explore Our Services
In Her Spare Time
When she's not taking care of patients, Dr. Leah is passionate about spending quality time with her family and friends. She loves getting outside as much as possible to enjoy adventures and taking advantage of the four seasons Wisconsin has to offer.

Dr. Leah Hetebrueg | (920) 430-0280